FACEBOOK: Time Out For Comics!

Follow us on: Instagram

Email: timeoutforcomics@myfairpoint.net

Phone: 1-207-360-1034

TAKE TIME OUT FOR COMICS! WHERE WE TAKE TIME OUT FOR YOU!!

BECOME A TIME OUT FOR COMICS! MEMBER

On September 1 2021, Time Out For Comics! celebrates 28 years in business!! A big thank you to all for 28 years of friendship, great conversations and memories. Here is to another great year and many more to follow!!

New customers who become members and place orders will receive a free gift for becoming a member. Existing members, if you bring a new customer who becomes a member, you will receive a free gift as well!
Certain restrictions apply.


Sign our guestbook

BACK ISSUE INVENTORY SALE! ALL BACK ISSUES ARE FIFTY CENTS (.050 )+ SHIPPING. CHECK OUT OR BACK ISSUE PAGE. BACK ISSUES- FIFTY CENTS (.050) EACH, PLUS SHIPPING. CLASSIC DAREDEVIL AND ULTIMATE SIGNED EDITION EXEMPT FROM SALE
SEND US YOUR WANT LIST!


____________________________________________________________________________________

RESERVE YOUR COPY NOW OF THESE UPCOMING RELEASES!!

Order your titles through us. Shipping and Handling fees may apply.

____________________________________________________________________________

NOVEMBER HIGHLIGHTS:

BATMAN NOEL HC
DC
(W/A/CA) Lee Bermejo
Inspired by Charles Dickens's immortal classic A Christmas Carol, Batman: Noel takes the Dark Knight on a journey into his own past, present, and future as he battles villains from campy 1960s rivals to dark modern menaces. While Batman fights for his soul in a frozen Gotham landscape, his supporting cast take up recognizable roles analogous to Dickens's original holiday tale. Written and drawn by comic book superstar Lee Bermejo (Batman: Damned), Batman: Noel offers a beautiful and unexpected retelling of a beloved classic.

HULK #1
MARVEL
(W) Donny Cates (A/CA) Ryan Ottley
"MAD SCIENTIST" PART 1 OF 6
The uncontrollable rage of the Hulk has reached an all-new level, and nobody - including the Avengers - is prepared to handle it. But is it really the Hulk that people should be afraid of, or is there something missing to this puzzle? Join the superstar creative team of Donny Cates and Ryan Ottley as they look to the stars for the next era of HULK!
RATED T+

THE THING #1
MARVEL PRH
(W) Walter Mosley (A/CA) Tom Reilly
THE NEXT BIG THING BEGINS HERE!
Renowned storyteller Walter Mosley brings his signature style to a sweeping saga of Yancy Street's favorite son that will range from the urban sprawl of the back alleys of Manhattan to the farthest reaches of the cosmos itself! A lonely evening and a chance encounter (or is it?) sends Ben Grimm embarking on a sojourn that will have him encountering - and battling - figures both old and new. Featuring guest appearances from figures drawn from throughout the Marvel Universe as well as precision artwork by Tom Reilly, THE NEXT BIG THING will remind audiences why the Thing is one of the most popular and beloved characters in the history of comics!
RATED T

HAWKEYE #1 (OF 5)
MARVEL PRH
(W) Marieke Nijkamp (A) Enid Balam (CA) Jahnoy Lindsay
KATE'S HEADING HOME!
Or at least, back to New York. And as much as she wants to go back to where her friends - her chosen family - are, she's changed since she was last on the East Coast. So she's picked up a pit stop case first. A confidence-booster, to prove to herself she's making the right decision and not going to backslide into her past just by changing time zones.
Besides, the case is perfect: Swanky resort? Check. Jewel heist? Check. Almost definitely 100% a trap? Check.
Don't miss this exciting new miniseries from New York Times bestselling writer Marieke Nijkamp and artist Enid Balám!
RATED T+

DECEMBER HIGHLIGHTS:

DEVILS REIGN #1 (OF 6)
MARVEL PRH
(W) Chip Zdarsky (A/CA) Marco Checchetto
The story that's been building for years is here! Wilson Fisk went from Kingpin to Mayor of the biggest city in America and is going to bring his full criminal and political power to bear on the super heroes who call NYC home. The man who once destroyed Daredevil has set his sights on The Fantastic Four, Iron Man, Captain America, Spider-Man, Jessica Jones, Luke Cage and more. And since it's Fisk, once he takes them all down, you know he's going to sign it.
CROSSBONES! TASKMASTER! TYPHOID MARY! SHOCKER! WHIPLASH! RHINO! KRAVEN! Fisk has an ARMY of super villains at his command - and this is just his opening salvo. For years, Fisk has waited for his time to strike, and YOU WON'T BELIEVE the aces he's got up his sleeves!
RATED T+

TIMELESS #1
MARVEL PRH
(W) Jed MacKay (A) Kev Walker, More (CA) Kael Ngu
HOW DO YOU WIN A WAR AGAINST TIME?
A special year-ending adventure that gives portents as to what is to come in the Marvel Universe over the next twelve months! Kang the Conqueror is a warrior, a destroyer, a subjugator-but even he is subject to the whims and vicissitudes of time itself. So when a parallel timeline threatens to overwrite the future that Kang has fought so long and so hard to control, the master of the ages has no choice but to go to war with time itself, battling through days of tomorrow as he struggles to prevent the end of what is to come!
Featuring all the major players in the Marvel pantheon!
RATED T

AVENGERS FOREVER #1
MARVEL PRH
(W) Jason Aaron (A/CA) Aaron Kuder
AN ALL-NEW SERIES STARRING THE AVENGERS OF THE MULTIVERSE!
On a quest for cosmic vengeance, Ghost Rider finds himself roaring through the wasteland on a ruined Earth, where the great age of heroes never came to be, where hope is a four-letter word and where his only ally in the coming battle against the greatest villains any universe has ever seen is the world's most wanted archaeologist, Tony Stark...the Invincible Ant-Man. Spinning out of the cataclysmic events of AVENGERS #750 and operating in lockstep with the prime AVENGERS series, the next great Avengers saga begins here, as the Mightiest Heroes of every Earth begin to assemble.
RATED T+

WASTELANDERS WOLVERINE #1
MARVEL PRH
(W) Steen S. DeKnight (A) Ibrahim Moustafa (CA) Josemaria Casanovas
STEVEN S. DEKNIGHT LEADS THE RETURN TO THE WASTELANDS OF OLD MAN LOGAN!
The super villains united and took out most of the world's super heroes decades ago, and while the man known as LOGAN attempted to live a life of peace, he had to pop the claws once again to do what he does best! But saving the day looks different with the Baby Hulk under his care. Is Logan doing the right thing by protecting the progeny of the HULK or dooming what's left of the war-torn world? Logan may not have long to ponder if he is crushed by the ADAMANTIUM ARMOR of his newfound enemy DOWNFALL!
Steven S. DeKnight (Daredevil season 1 showrunner, WOLVERINE: BLACK, WHITE & BLOOD) teams with fan-favorite artist Ibrahim Moustafa to tell an all-new story of WOLVERINE in the days after the conclusion of the original OLD MAN LOGAN, as he fights once again to save the people of the Wastelands who have been crushed under the heel of the RED SKULL and BRUCE BANNER!
PARENTAL ADVISORY

BATMAN ONE DARK KNIGHT #1 (OF 3)
DC Comics
(W/A/CA) Jock
From high above the sweltering summer streets of Gotham, Batman planned to escort the GCPD as the dangerous metahuman super-villain known as E.M.P. was transferred from a holding cell to his permanent home at Blackgate Prison. E.M.P.'s electrical powers posed a threat, but the situation was in hand—until it wasn't. Now every light in Gotham is out, the police are in disarray, and a broken, bleeding Batman must fight his way to Blackgate, block by block, dragging E.M.P. behind him. But the dark corners of Gotham hold many surprises…and E.M.P. has many more shocks to deliver before the night is through! One of the most iconic Batman artists of the 21st century, the incomparable Jock (The Batman Who Laughs, Batman: The Black Mirror), has focused all his storytelling powers on the tale of one very, very dark night in Gotham City. It's always darkest before the dawn—if it ever comes…

WASTELANDERS HAWKEYE #1
MARVEL PRH
(W) Sacks, Ethan (A) Ibraim Roberson (CA) Josemaria Casanovas
DEADLY ACCURACY!
Witness the never-before-told story of HAWKEYE'S training with STICK-the man formerly known as DAREDEVIL! Clint Barton's sight may be gone, but his will to avenge is stronger than ever, and with the training and expert guidance of MATT MURDOCK, arrows will fly again! But what is Murdock's actual target? And how will this change Hawkeye's path in the Wastelands? This is one issue YOU can't afford to miss!
PARENTAL ADVISORY

SPAWN SCORCHED #1
IMAGE COMICS
(W) Sean Lewis (A) Stephen Segovia, Paulo Siqueira (CA) Greg Capullo
The first ALL-NEW issue of TODD McFARLANE's superhero team book!
There's a threat so big that no single hero can stop it, and the formation of this new supergroup is the only thing standing in its way. Members will include SPAWN, REDEEMER, GUNSLINGER, MEDIEVAL SPAWN, and SHE-SPAWN, with many more heroes waiting in the wings!
Join the battle in this FIRST ISSUE extravaganza as the forces of heaven, hell, and earth collide!
REGISTER PITCH: An Avengers-esque ensemble of superheroes and the latest entry in SPAWN'S UNIVERSE. Hook readers of KING SPAWN and GUNSLINGER SPAWN, as well as longtime SPAWN fans.

WASTELANDERS BLACK WIDOW #1
MARVEL PRH
(W) Steven S. DeKnight (A) Well-Bee (CA) Josemaria Casanovas
WHO IS THE BLACK WIDOW?
The LIZARD KING has grown monstrous and deadlier than ever as the lord of his southern domain. But when rumor breaks that critical information is believed to be stored in his impenetrable fortress, only the greatest spy of all is up to the infiltration: the deadly BLACK WIDOW! But who is she, and how has she survived this many decades in the Wastelands undetected? Witness her first appearance in the Old Man
Universe!
PARENTAL ADVISORY

WASTELANDERS STAR-LORD #1
MARVEL PRH
(W) Rich Douek (A) Brent Peeples (CA) Josemaria Casanovas
PETER QUILL HAUNTED BY HIS PAST!
The legendary STAR-LORD has fallen on hard times. With the GUARDIANS OF THE GALAXY disbanded, PETER QUILL returned to Earth to find it a wasteland unlike anything he's seen across the stars-heroes dead, villains in power. While he's taken out one threat, others remain in the Wastelands, and Star-Lord's own desire to assuage his guilt for being off-world during the calamity will land him right in the middle of another! Will Quill overcome the MYSTERIOUS FORCE waiting for him at the site of his lost love's death? Or is she not really dead at all...?
PARENTAL ADVISORY

WASTELANDERS DOOM #1
MARVEL PRH
(W) Torunn Gronbekk (A) Julius Ohta (CA) Josemaria Casanovas
THE ONCE AND FUTURE KING!
DOCTOR DOOM helped wipe out the heroes on the Day the Villains Won, but even as he rules his domain in the Wastelands, a greater destiny calls to him. When a mysterious power blocks his oversight of a particular region, what he discovers will have ripple effects across the WASTELANDERS stories!
PARENTAL ADVISORY

_____________________________________________________________________

Sign our guestbook

____________________________________________________________________________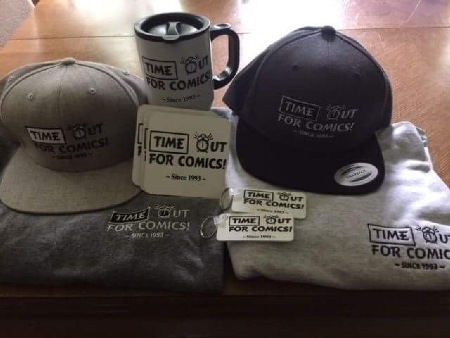 We offer Time Out For Comics! t-shirts, hats, travel mugs, and coasters. Order yours!!


More than a comic store. COLLECTORS ORDER YOUR DC DIRECTS, MARVEL SELECTS AND OTHER STATUES AND BUSTS THROUGH US!

We carry a full line of: MARVEL, DC, DARK HORSE, IMAGE, BOOM, IDW titles. We also carry comic, sports, and card supplies for all your collecting interests.

______________________________________________________________________________________

Whether you have been collecting for years, just starting out, or looking for something to read, with 28 years in the industry Time Out's goal is to meet your individual collecting needs. Missing a book? E-mail us- we can put together a selection of titles to meet your specific reading needs, or find the book you are looking for. Orders from Previews accepted.

You can stay in the comfort of your home and have your collection delivered to you. Read all the exciting issues of the best stories offered by Marvel, DC, or the Independents.

We ship out of state- email us for shipping information.

Your books come bagged.

WEDNESDAY NEW RELEASE DAY

Be sure to click on the Pick of the Week page every Wednesday for hot items! All merchandise is while supplies last.

Check out our monthly newsletter page.

Take Time Out For Comics! Where we take Time Out for YOU!! If you have any questions or wish to place an order you can email us: timeoutforcomicsmyfairpoint.net
Sign our guest book before you leave OR if you wish to leave a comment , need information, or need us to contact you, go to the contact or comment page. Hope to hear from you!

________________________________________________________________________________

THE $1 CARD PACK SALE: EACH PACK IS $1 EACH ! IF YOU ARE CURRENTLY RECEIVING ORDERS FROM TIME OUT THEN PACKS WILL BE INCLUDED IN YOUR NEXT SHIPMENT. IF YOU ARE NOT THEN CONTACT US FOR SHIPPING INFO. QUANTITIES ARE LIMITED SO ACT NOW!!!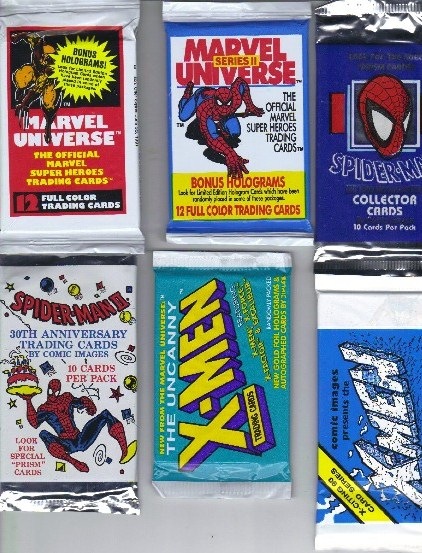 SPIDERMAN COLLECTOR'S CARDS

SPIDERMAN II 3OTH ANNIVERSARY

UNCANNY X-MEN

X-MEN

MARVEL UNIVERSE SERIES I

MARVEL UNIVERSE SERIES II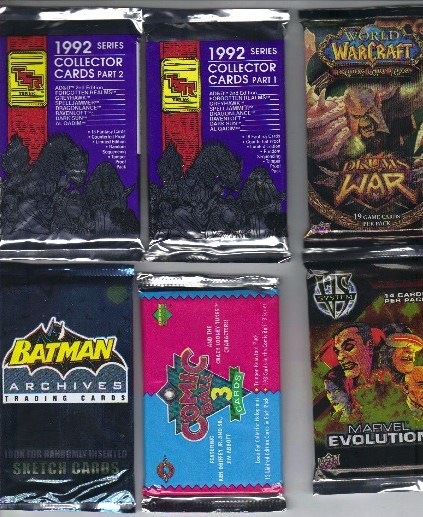 1992 DUNGEONS AND DRAGONS COLLECTORS CARDS PART 1

1992 DUNGEONS AND DRAGONS COLLECTORS CARDS PART 2

BATMAN ARCHIVES

WORLD OF WARCRAFT DRUMS OF WAR

COMIC BALL 3

MARVEL EVOLUTION (SOLD OUT)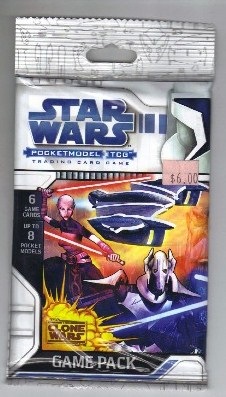 STAR WARS POCKET MODEL TCG CLONE WARS GAME PACK

Special sale on back issues email us your list.

Check out some pictures through the years