FACEBOOK: Time Out For Comics!

Follow us on: Instagram

Email: timeoutforcomics@myfairpoint.net

Phone: 1-207-360-1034

TAKE TIME OUT FOR COMICS! WHERE WE TAKE TIME OUT FOR YOU!!

BECOME A TIME OUT FOR COMICS! MEMBER

On September 1 2022, Time Out For Comics! celebrates 29 years in business!!
A big thank you to all for 29 years of friendship, great conversations and memories. Here is to another great year and many more to follow!!!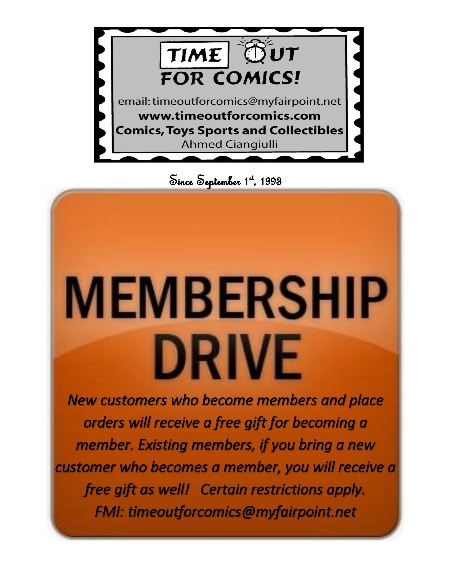 New customers who become members and place orders will receive a free gift for becoming a member. Existing members, if you bring a new customer who becomes a member, you will receive a free gift as well!
Certain restrictions apply.


Sign our guestbook

BACK ISSUE INVENTORY SALE! FROM JUNE 1ST UNTIL SEPTEMBER 30TH ALL BACK ISSUES ARE TWENTY CENTS each (.029 )+ SHIPPING.

SEND US YOUR WANT LIST!

____________________________________________________________________________________

RESERVE YOUR COPY NOW OF THESE UPCOMING RELEASES!!

Order your titles through us. Shipping and Handling fees may apply.

____________________________________________________________________________

July Highlights

SPIDER-MAN 2099: EXODUS OMEGA 1
Marvel
THE 30TH ANNIVERSARY OF 2099 REACHES ITS EXPLOSIVE CONCLUSION! The final battle for the Celestial Garden begins! Spider-Man vs. Norman Osborn! The X-Men vs. the Cabal! Two armies, two deadly enemies…and the keys to 2099's future up for grabs! It's a brawl for all: A brave new tomorrow for 2099 starts here!


AVENGERS 1,000,000 BC 1
Marvel
THE SECRET ORIGIN OF THOR - REVEALED! They are the defenders of the dawn of time. Marvel's first and mightiest legacy heroes. But their greatest secrets have never been revealed. Until now. Witness the dark events that shatter their ranks. See how their lives come to shape the entire future of the Marvel Universe. And be there for the monumental event that reunites them one last time: the true story of Thor's birth.

DC VS VAMPIRES ALL-OUT WAR #1 (OF 6)
DC Comics
(W) Matthew Rosenberg, Alex Paknadel (A) Pasquale Qualano (CA) Alan Quah
One of the last secret, underground human cities is facing total annihilation and its leader—John Constantine—must plan a suicide mission to assassinate a key lieutenant in the vampire empire! Against unreal odds and with an unlikely team including Booster Gold, Deathstroke, and Mary Marvel, does the Hellblazer have one more trick up his sleeve? A gritty, violent, monochromatic companion series to DC vs. Vampires, this series will feature a brutal story with a cadre of talented creators delivering 32 pages of original content!

X-MEN UNLIMITED: X-MEN GREEN 1
Marvel
AN "X" CROSSING DANGEROUS LINES! When a young X-Man breaks the laws of Krakoa and takes a life, it's up to Wolverine to track down his former student and take her down… But Nature Girl is tired of standing by while humanity destroys her home. Can even Logan quell her fury? Find out as a good girl breaks bad to save the planet! The hit story from Marvel Unlimited comes to print for the first time with exclusive bonus content!


X-MEN LEGENDS 1
Marvel
AN ALL-NEW TALE SET BEFORE GIANT-SIZE X-MEN #1! Before GIANT-SIZE X-MEN brought STORM, WOLVERINE, COLOSSUS, NIGHTCRAWLER and THUNDERBIRD to the team, Roy Thomas redefined the merry mutants in two seminal runs on the book. Now Roy, at long last, returns to the saga of the X-MEN to take us through the period between his run and GSX, for the first time detailing Wolverine's government missions before his recruitment by PROFESSOR X (including unrevealed detail on his battle with the green goliath in HULK #181/182), an untold episode involving BEAST and a host of missing mutants, and the secret behind Wolverine's costume! Kicking off an all-new volume of X-MEN LEGENDS by a host of legendary creators, this is but the first story in a run of new, in-continuity tales covering the length and breadth of X-Men history from the early eras to fan-favorite latter day sagas! Face front, True Believers! These are the missing links you've been looking for!

August Highlights:

AMAZING FANTASY #1000
Marvel
(W) Kurt Busiek, Various (A) Goran Parlov, Various (CA) John Romita
The comic that brought you SPIDER-MAN hits issue #1000!
We're going big to celebrate in this, our thousandth issue of AMAZING FANTASY! An ALL-STAR roster of creators are coming together to celebrate Peter Parker and Spider-Man's birthdays!
RATED T

AVENGERS 1,000,000 BC 1
Marvel
THE SECRET ORIGIN OF THOR - REVEALED! They are the defenders of the dawn of time. Marvel's first and mightiest legacy heroes. But their greatest secrets have never been revealed. Until now. Witness the dark events that shatter their ranks. See how their lives come to shape the entire future of the Marvel Universe. And be there for the monumental event that reunites them one last time: the true story of Thor's birth.

SEPTEMBER HIGHLIGHTS:

BATMAN DEAR DETECTIVE #1 (ONE SHOT)
DC Comics
(W/A/CA) Lee Bermejo
BERMEJO AND BATMAN: AN ICON DRAWS AN ICON. What happens when a comics art powerhouse meets one of the greatest, most exciting heroes of all time? One part prestige art book, one part compelling noir tale, this one-of-a-kind edition collects some of Lee Bermejo's most jaw-dropping Batman covers woven together to tell a story that strikes right at the heart of the Dark Knight's never-ending crusade.

DARK KNIGHTS OF STEEL TALES FROM THE THREE KINGDOMS #1 (ONE SHOT)
DC Comics
(W) Tom Taylor, Jay Kristoff, CS Pacat (A) Nathan Gooden, Various (CA) Neil Googe
The El Kingdom has been ruled with integrity and honesty for generations, by familes from the Waynes to the Els. The future of the kingdom lies with its three heirs and the challenges they will face...but what really prepared them for their tumultuous future? What stories defined Bruce, Zala, and Kal-El? Learn these tales and more from international bestselling writers Tom Taylor, Jay Kristoff, and C.S. Pacat!

BATMAN VS ROBIN #1 (OF 5)
DC Comics
(W) Mark Waid (A/CA) Mahmud Asrar
Spinning out of the events of both Batman/Superman: World's Finest and Shadow War, father and son will do battle in one of the single most earth-shattering tales ever told! Deep in the heart of Lazarus Island, the demonic legacy of the al Ghul family line has at last been freed, and the Devil Nezha is out for blood. To reclaim his total domination over planet Earth, Nezha has supercharged magic—anyone who dares use it is overcome by a demonic evil that supercharges their abilities to dangerous, unpredictable, and in some cases deadly levels! With Damian in Nezha's clutches and Bruce haunted by the return of an old friend, the Dark Knight and the Boy Wonder are pitted against one another in the battle of the century! Legendary writer Mark Waid helms the next epic saga in Batman history, while superstar artist Mahmud Asrar makes his triumphant return to DC!

BATMAN ONE BAD DAY TWO-FACE #1 (ONE SHOT)
DC Comics
(W) Mariko Tamaki (A/CA) Javier Fernandez
Two-Face has always been viewed as Batman's most tragic villain. If only Harvey Dent hadn't been scarred by acid, he could have continued his good work as D.A. in Gotham City and been Batman's greatest ally and friend...right? Or has Batman extended Harvey Dent too much grace in his multiple attempts at reform? He'll question himself as Harvey Dent is free once more, scarred but seemingly free of Two-Face's influence. But...when it's revealed Harvey Dent's father has been threatened to be murdered on his 88th birthday, will Two-Face be able to resist joining the party? From the bestselling creative team of Mariko Tamaki (Detective Comics, Crush & Lobo) and Javier Fernandez

ACTION COMICS #1 FACSIMILE EDITION (2022)
DC Comics
(W) Various (A) Various (CA) Joe Shuster
Written by Jerry Siegel, Homer Fleming, Fred Guardineer and others Art by Joe Shuster, Homer Fleming, Will Ely, Sven Elven and others Sent to Earth as an infant to escape a dying planet and raised by humble farmers to uphold the values of truth, justice, and the American way, Superman is regarded by many as the greatest superhero in comics history. Now you can have your very own copy of the Man of Steel's first adventure with this handsome facsimile edition of Action Comics #1, featuring all the tales and ads from the original 1938 publication. You will believe that a man can fly.

OCTOBER HIGHLIGHTS:

JOKER THE MAN WHO STOPPED LAUGHING #1
DC Comics
(W) Matthew Rosenberg (A) Carmine Di Giandomenico, Francesco Francavilla (CA) Carmine Di Giandomenico
The world once again holds its breath as The Joker strikes again! But how far is he willing to go this time? From the twisted minds of Matthew Rosenberg (Task Force Z, What's the Furthest Place from Here?) and Carmine Di Giandomenico (Batman: The Knight) comes a violent, mind-bending new series that picks up from the cataclysmic end of The Joker and follows the mayhem across the United States. With the Clown Prince of Crime setting out on his most bizarre caper yet, will a fan-favorite vigilante be able to prevent certain tragedy? Or is he in on the joke? In the back-up--Joker's got a hot date but he's going to need a mirror to make sure he looks nice. Maybe Mirror Master can help.


AMAZING SPIDER-MAN 1 FACSIMILE EDITION
Marvel
Re-presenting the inaugural issue of Spider-Man's iconic ongoing series, which followed fast after the wall-crawler's blockbuster debut in AMAZING FANTASY #15! Peter Parker has been bitten by the radioactive spider, gained incredible abilities, donned his colorful costume and learned a tragic lesson about power and responsibility - and now it's time for him to swing into action! But can our young hero rescue a crew of astronauts aboard their malfunctioning shuttle? Even if he does, he'll still end up Public Enemy No. 1 as far as journalist J. Jonah Jameson is concerned! Then, Spidey shows off his skills in a bid to join the Fantastic Four - and comes face-to-faces with his very first super villain: the identity-stealing Chameleon! It's one of the all-time great Marvel comic books, boldly re-presented in its original form, ads and all! Reprinting AMAZING SPIDER-MAN (1963) #1.

SPIDER-MAN 1
Marvel
"The End of the Spider-Verse" is here! Morlun is back and he is not alone. Allied with one of the most powerful beings known to the Spider-Verse, the scariest Spider-Villain of all time is making his biggest play and no Spider is safe. Especially not the Chosen Spider himself, Peter Parker. With Peter working for Norman Osborn and using a glider…does he have it coming? Spidey's 60th Anniversary is no joke as two of the most legendary Spider-Creators are working together on Spidey for the first time and you know it's going to be one for the record books!

BATMAN INCORPORATED #1
DC Comics
(W) Ed Brisson (A/CA) John Timms
From the pages of Batman comes an all-new, all-exciting adventure for Ghost-Maker and his Batman Incorporated team! The team's trust issues and detective skills are immediately put to the test when someone from Ghost-Maker and Batman's recent past is brutally murdered... Is this an isolated event, sending a message to the two? Or is this the start of something darker and more sinister? (Hint--it's sinister and dark!) The all-star creative team of Ed Brisson and John Timms chart a new future

NAMOR 1
Marvel
A century into the future, not much land remains on Earth. A combination of a worsening climate and a devastating war with the Kree has left the surface of the planet mostly inhospitable, with an ever-dwindling population of air-breathers and a profound lack of super heroes to protect them. Enter NAMOR, who these many years on is no longer King of Atlantis…but ruler of the entire world.

BATMAN ONE BAD DAY PENGUIN #1 (ONE SHOT)
DC Comics
(W) John Ridley (A/CA) Giuseppe Camuncoli
The Penguin's criminal enterprise and the Iceberg Lounge have been stolen from underneath him by his former associate the Umbrella Man. The Umbrella Man has removed all of the rules for crime in Gotham City that the Penguin put in place, and the city is in chaos. The Penguin is a broken man, and he'll have to travel through the burning streets of Gotham with a gun and a single bullet putting together a new crew to take back what he's built. Will Batman help the devil he knows or face the devil he doesn't in the form of the Umbrella Man? A crime epic from the team behind the critically acclaimed Other History of the DC Universe, John Ridley and Giuseppe Camuncoli--don't miss it!

DEADLY NEIGHBORHOOD SPIDER-MAN 1
Marvel
A revolutionary dark take on Spider-Man begins here! What is reality and what is dream? What is science and what is magic? At the intersection of all of this stands the Deadly Neighborhood Spider-Man. Peter Parker goes to Los Angeles and what he finds there are definitely not angels. The demons waiting for Peter are going to test him like never before. One demon in particular, a very famous one for Marvel and X fans in particular, might just eat Spider-Man alive.

RIDDLER YEAR ONE #1 (OF 6)
DC Comics
(W) Paul Dano (A) Stevan Subic (CA) Bill Sienkiewicz
As depicted in Matt Reeves's hit movie The Batman, the Riddler wasn't simply an amusing eccentric with an affinity for wordplay and baffling clues, but as terrifying a villain as any in the annals of the Dark Knight. Here you can see Edward Nashton evolve into the menace known as the Riddler. How did an unknown forensic accountant uncover the dark secrets of Gotham's underworld and come so close to bringing down the entire city? This six-issue miniseries is an immediate prequel to The Batman—the detailed, disturbing, and at times shocking story of a man with nothing to lose. Artist Stevan Subic makes his American comics debut, including a variant cover that is the first of six interlocking covers. This collaboration with Dano delivers a shadowy and gritty tale of a society's forgotten man who refuses to go unnoticed any longer. Subic's recent Conan the Cimmerian for French publisher Glenat has brought him great acclaim in Europe, and he's about to break out globally with a Batman series unlike any you've seen before.

_____________________________________________________________________

Sign our guestbook

____________________________________________________________________________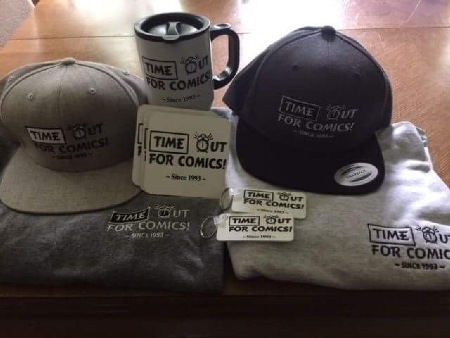 We offer Time Out For Comics! t-shirts, hats, travel mugs, and coasters. Order yours!!


More than a comic store. COLLECTORS ORDER YOUR DC DIRECTS, MARVEL SELECTS AND OTHER STATUES AND BUSTS THROUGH US!

We carry a full line of: MARVEL, DC, DARK HORSE, IMAGE, BOOM, IDW titles. We also carry comic, sports, and card supplies for all your collecting interests.

______________________________________________________________________________________

Whether you have been collecting for years, just starting out, or looking for something to read, with 28 years in the industry Time Out's goal is to meet your individual collecting needs. Missing a book? E-mail us- we can put together a selection of titles to meet your specific reading needs, or find the book you are looking for. Orders from Previews accepted.

You can stay in the comfort of your home and have your collection delivered to you. Read all the exciting issues of the best stories offered by Marvel, DC, or the Independents.

We ship out of state- email us for shipping information.

Your books come bagged.

WEDNESDAY NEW RELEASE DAY

Be sure to click on the Pick of the Week page every Wednesday for hot items! All merchandise is while supplies last.

Check out our monthly newsletter page.

Take Time Out For Comics! Where we take Time Out for YOU!! If you have any questions or wish to place an order you can email us: timeoutforcomicsmyfairpoint.net
Sign our guest book before you leave OR if you wish to leave a comment , need information, or need us to contact you, go to the contact or comment page. Hope to hear from you!

________________________________________________________________________________

THE $1 CARD PACK SALE: EACH PACK IS $1 EACH ! IF YOU ARE CURRENTLY RECEIVING ORDERS FROM TIME OUT THEN PACKS WILL BE INCLUDED IN YOUR NEXT SHIPMENT. IF YOU ARE NOT THEN CONTACT US FOR SHIPPING INFO. QUANTITIES ARE LIMITED SO ACT NOW!!!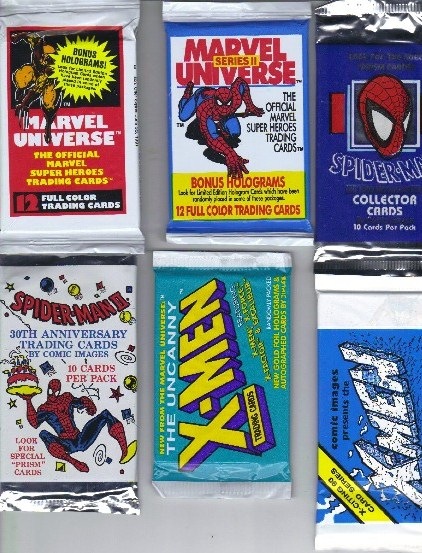 SPIDERMAN COLLECTOR'S CARDS

SPIDERMAN II 3OTH ANNIVERSARY

UNCANNY X-MEN

X-MEN

MARVEL UNIVERSE SERIES I

MARVEL UNIVERSE SERIES II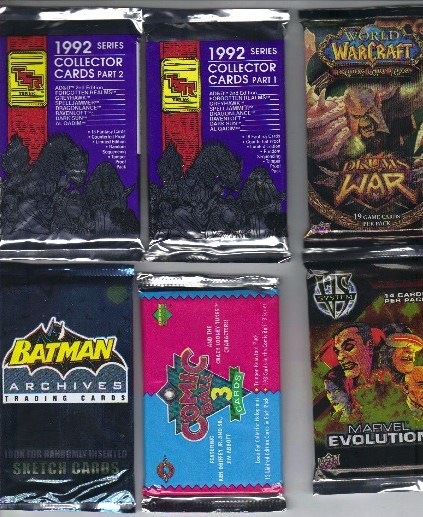 1992 DUNGEONS AND DRAGONS COLLECTORS CARDS PART 1

1992 DUNGEONS AND DRAGONS COLLECTORS CARDS PART 2

BATMAN ARCHIVES

WORLD OF WARCRAFT DRUMS OF WAR

COMIC BALL 3

MARVEL EVOLUTION (SOLD OUT)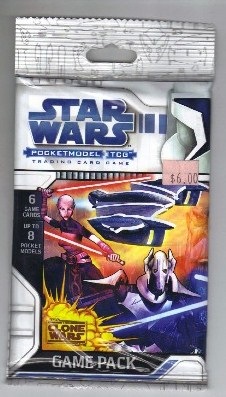 STAR WARS POCKET MODEL TCG CLONE WARS GAME PACK

Special sale on back issues email us your list.

Check out some pictures through the years